A career in the airlines can be a rewarding next chapter for many military veterans. If you've applied for and received Post-9/11 GI Bill education benefits, you can use the awarded funds for a flight training program to help you achieve your flying goals.
The United States Department of Veterans Affairs (VA) has changed several policies for flight training veterans over the years, so it's important to have up-to-date information.
Basic Requirements for GI Bill Flight Training Eligibility
To use a GI Bill for flight training, the U.S. Department of Veterans Affairs specifies that you must accomplish the following:
(1) Qualify for the Post-9/11 GI Bill, Montgomery GI Bill, or Reserve Educational Assistance Program (REAP);
(2) Have a private pilot's license; and
(3) Have a second-class medical certificate valid for second-class privileges—or a first-class medical certificate if you want to pursue the Airline Transport Pilot (ATP) certificate
Related Content: A Step-by-Step Guide to Your Student Pilot Medical Certificate
What Does the GI Bill Cover?
You can use GI Bill benefits for vocational flight training or a bachelor's degree program at a college with an aviation program. If you do attend a vocational flight school, make sure that it is an FAA Part 141 certified school. In the flight training section of its website, the VA explicitly mentions the benefits it provides if you train at a stand-alone Part 141 pilot school, but Part 61 programs are not mentioned. Plus, as an aspiring career pilot, you can gain an advantage at a Part 141 school that allows you to complete your training in fewer hours.
The first level of education for pilots, the private pilot certification, is not covered by the GI Bill. In theory, this policy weeds out all of the applicants who wish to get their private pilot certificate as a personal goal or "bucket list" item and stop training after that. In other words, the GI Bill aims to help veterans pursue a career in aviation by paying for their flight training and ratings beyond a recreational or private pilot certificate.
So, while you cannot use the GI Bill for your private pilot certificate, you can use it for your instrument rating, commercial pilot certificate, and flight instructor and type ratings. You also can use the Montgomery GI Bill and the Post-911 GI Bill for an aircraft dispatcher rating (provided you enroll in an approved program).
If you decide to use your GI Bill for flight training but need help paying for your private pilot certificate, then you may consider applying for a flight training loan or a personal loan. The cost of training for a private pilot certificate will vary greatly depending on the school you attend, the aircraft you rent, and the time you need, but you should be able to get your private pilot certificate for around $9,000 to $12,000.
Who Can Use the GI Bill?
The term "GI Bill" refers to any VA education benefit earned by members of Active Duty, Selected Reserve, and National Guard Armed Forces and their families. No financial contribution is required by the soldier; eligibility for funding is determined by the VA solely on total qualifying active duty service. As part of the Forever GI Bill, eligibility for benefits will change to the following in August 2020.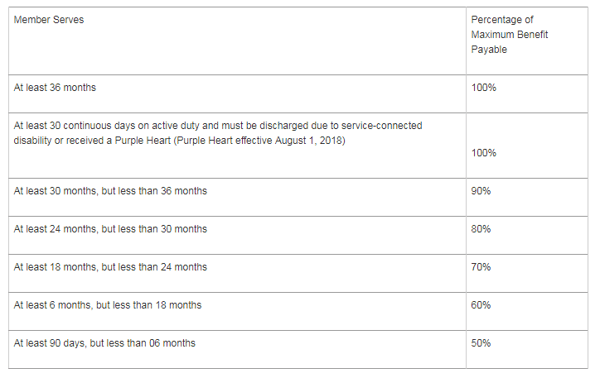 Source: U.S. Department of Veterans Affairs
To view the eligibility percentages prior to August 2020, refer to this page on the VA website.
What Is Your Benefit?
Most veterans are eligible for benefits under Post-9/11 GI Bill® (Chapter 33). Under Post-9/11 GI Bill® (Chapter 33), the benefit's maximum rate per academic year is capped. For attending a vocational flight school during the 2020 Academic Year (August 1, 2020 - July 31, 2021), the actual net costs cannot exceed $14,378.35 per academic year. You can find all the details on the Veterans Affairs rate tables page.
Understanding the Costs of Flight Training Beyond GI Benefits
Since you may have to jump through a few hoops to determine your eligibility requirements, do your homework. Make sure you understand the approved charges for the program, and what you will be responsible for out-of-pocket.
Some aviation colleges have additional federal funding and loan options, such as the Pell Grant, which will help you cover the cost of tuition and flight training in case you exhaust your Post 9/11 benefits. Also, should you wish to continue time building in preparation for an airline interview, find out if your school will offer you a job as a flight instructor once you receive your rating(s).
Keeping Flight School Costs Low
Even if you receive GI Bill funding, flight school costs vary greatly from student to student, and some students spend thousands of dollars more than what's needed to receive their rating. If you need more time flying and practicing maneuvers before you take your checkride, that will cost you more money, and possibly exhaust your GI Bill benefits before you receive your ratings. To keep your costs low and save money as you go, read our tips on how to reduce the cost of flight school.
Photo by Blake Guidry