Unless you have around $10,000 saved for private pilot training, loans likely will factor into how you pay for flight school. While not all lenders will offer you a loan for flight school, there are plenty of reasonable loan options to help you fund your flight training.
Best Loans for Flight School
William D. Ford Federal Direct Loans
Wells Fargo Private Loans for Career and Community Colleges
Sallie Mae Career Training Smart Option Student Loans
AOPA Finance Flight Training Loans
We Florida Financial 'We fly' Flight Training Loans
Which option is best for you depends both on the eligibility requirements for the loan and your goals in aviation. Before you start advancing through your flight training program, make sure that you carefully review your options for financial support and select one or more that makes sense for you. To get started, check out the popular loan options below to compare and evaluate the best fits for your needs.
Federal Student Loans for Flight School
If you qualify for federal student loans, then you should fill out the Free Application for Federal Student Aid (FAFSA) before you explore your private loan options. Federal student loans often have terms that are favorable to their private counterparts, such as lower interest rates and flexible repayment plans. These student loans come in four flavors.
1. Federal Direct Subsidized Loans
To be eligible for direct subsidized loans, you must be an undergraduate student and demonstrate financial need to help cover the costs of your education.
2. Federal Direct Unsubsidized Loans
Direct unsubsidized loans, on the other hand, are available if you are an undergraduate, graduate, or professional student. You do not need to demonstrate financial need to receive a direct unsubsidized loan.
3. Federal Direct PLUS Loans
Direct PLUS loans are available if you are a graduate or professional student who wants help paying for education expenses that are not covered by other financial aid, or if you are a dependent undergraduate student whose parents want help paying for those expenses. You do not need to demonstrate financial need to be eligible, but a credit check is mandatory.
4. Federal Direct Consolidation Loans
If you are eligible for multiple federal student loans, a direct consolidation loan allows you to combine all your loans into one loan with a single loan servicer.
Comparing Federal Student Loans for Flight School
Interest rates and award amounts can differ between the various federal loan programs. The table below outlines the specifics for each type of student loan you could receive from the U.S. Department of Education.
Loan Program
Interest Rate
Rate Type
Annual Award
Direct Subsidized
4.53%
Fixed
Up to $5,500
Direct Unsubsidized

4.53% (Undergrad)

6.08% (Grad/Professional degree)
Fixed
Up to $20,500 (minus any subsidized amounts received for same period)
Direct PLUS
7.08%
Fixed
Up to the cost of attendance (minus any other financial aid you receive)
Source: Federal Student Aid
Who Can Use Federal Student Loans for Flight School?
Unfortunately, many student pilots do not meet the eligibility criteria for federal financial aid. Typically, federal student loans are available only to students who attend "accredited" aviation schools. These schools tend to include most universities and colleges but exclude most independent flight schools. So, while you likely would be eligible for federal aid if you choose to enroll in a professional pilot degree program at a university, you likely would not be eligible if you choose to conduct your flight training at a local flight school.

However, there can be exceptions. Before you fill out the FAFSA, check with your school to see if you qualify for federal aid.
Private Loans for Flight School
If you do not qualify for federal student loans, or you are dissatisfied with the rates and terms provided by the Department of Education, then you will want to research your loan options from banks, credit unions, and other lenders. Unlike federal student loans, the loans you are eligible to receive from financial institutions and private lenders can vary dramatically in amount, rate, and terms.
Before you fill out a loan application, you should communicate with your school and other student pilots to learn from past experiences and ensure that you're choosing an option that is feasible and helpful for you. Here are a few common loan options for your consideration.
Sallie Mae Flight School Loans
One of the most popular providers of private student loans, Sallie Mae offers 'career training student loans' for which many student pilots are eligible. These loans are available to student pilots who are pursuing professional training or certificate courses at a non-degree granting school (i.e. most flight schools).
The loans offered by Sallie Mae have a range of variable interest rates and you should ask your flight school what types of rates students have received in the past. If you're enrolled in a school that trains you through your Air Transport Pilot License (ATP), you may be eligible for competitive rates due to your expected employment opportunities.
Wells Fargo Flight School Loans
Among the major financial institutions, Wells Fargo is one of the few that has an established program for private flight training loans. According to the bank's website, a "Wells Fargo Student Loan for Career and Community Colleges is designed for students attending a two-year school, career-training program, or non-traditional school."
Variable and fixed interest rates are both options for these loans—each with a wide-range. You'll need a good to excellent credit history, or a cosigner who does, to receive a flight training loan from Wells Fargo.
Wells Fargo Flight School Loans vs. Sallie Mae Flight School Loans
Wells Fargo offers flight school loans up to $100,000, with an APR from 6.35% to 12.45% and up to 7 years for repayment. Sallie Mae offers flight school loans up to your total cost of attendance, with an APR from 5.74% to 13.11% and up to 15 years for repayment.
AOPA Aviation Finance Flight School Loans
The Aircraft Owners and Pilots Association (AOPA) has a finance division, AOPA Finance, which offers loans for flight training. Unlike most other lenders—save for Pilot Finance, Inc. and a few others—AOPA Finance deals specifically in financing aircraft, flying clubs, and flight training.
According to the AOPA Finance website, credit and approval rates for flight school loans are "dependent upon the credit history, income and obligations of the applicant and co-borrower, if any." You must have a minimum credit score of 660 to secure a flight school loan from AOPA Finance, but you can receive a loan up to $100,000 with an APR between 9.99% and 11.99%.
We Florida Financial Flight School Loans
If you'd prefer to borrow money from a credit union, We Florida Financial has the We fly Learn to Fly Program, which provides flexible loans that you can use for your local flight school. We Florida Financial specifically considers these 'pilot school loans,' not student loans, and the line of credit has a fixed-rate. At $30,000, the max loan you can receive is less than that of other lenders.
You must be a Florida resident to be eligible for a loan from the credit union.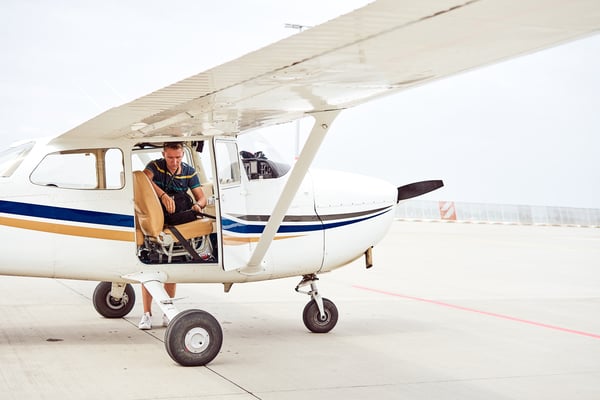 Other Ways to Pay for Flight School
While loans may end up making up a sizable portion of your flight school financing, you also should apply for scholarships and grants. Unlike with loans, you typically do not need to pay back flight training scholarships and grants. Based on your plans as a pilot, here are a few options you should consider.
Tuition Reimbursements for Airline Training
Most regional airlines offer tuition reimbursements to help you pay for your flight training and reach the major airlines more efficiently. Among others, the following airlines offer reimbursements.
Envoy Air (American Airlines)
SkyWest Airlines (Delta Airlines)
Mesa Airlines (United Airlines)
Horizon Air (Alaska Airlines)
Piedmont Airlines (American Airlines)
GoJet Airlines (Delta Airlines)
Compass Airlines (Delta Airlines)
ExpressJet Airlines (United Airlines)
CommutAir (United Airlines)
Republic Airways (Delta Airlines)
Similarly, you could receive tuition reimbursements if you intend to enroll in the military as a pilot. If you've already completed your service, the G.I. Bill's flight benefits will help you finance your flight training as well.
Flight School Scholarships
Several scholarship options can help you reduce the cost of flight school. If you plan to get your commercial license or fly for the military, then you can apply for scholarships specific to those pursuits. However, if you are not ready to commit to a career path, the following organizations can help you fund your private pilot training.
Those are just a few. Ask your flight school which scholarships students have applied for in the past, and for which scholarships you may be competitive.
Flight School Grants
If you are planning to attend an accredited flight school, then you also can apply for a Federal Pell Grant. Unlike federal loans, federal grants typically do not need to be repaid. Usually, these grants are awarded to undergraduate students who display "exceptional financial need" and have not earned a degree yet.
The Bottom Line
You absolutely can take out a loan for flight school, and you may even be able to fund all your private pilot training with borrowed money. However, you are doing yourself a disservice if you don't at least look into flight school scholarships and grants. By researching diverse options to pay for flight school, you can create the best financial plan for your goals as a pilot.