In just under a week, EAA will kick off the 50th consecutive year of AirVenture in Oshkosh, Wisconsin. It's the 'Year of the Fighter,' the 50th anniversary of the Boeing 747, and EAA is raffling off an airplane. That's cause for celebration, and Team Redbird is celebrating 50 years in Oshkosh early (i.e. since Saturday), often, and all over the AirVenture grounds (and overtime in Warbird Alley). We're excited to see you all here and to finally give you a glimpse at the projects we've had in the works since last year. However, with everything to see and do, we know it's easy to get lost in exploring the grounds. But where there's a will, there's a waypoint. To find the Redbird team and to experience our newest technologies for yourself, start with these ground references to navigate your way around OSH.
The
Redbird
Tent
Booth 304 - Main Aircraft Display
Our main nest at the show, the Redbird Tent houses the most diverse collection of Redbird simulators at the show and a lot of information about our newest products and initiatives. This year's exhibit is shaping up to be our most exciting yet. You'll have a lot to do and see:
The Redbird Touch n' Go Academy
We're teaming up with some of the best in the industry to provide free Private Pilot and Instrument flight training right from the Redbird Tent at AirVenture. The Redbird Touch n' Go Academy is designed to showcase what modern, innovative flight training looks like when it's delivered by experts, using best-of-breed tools.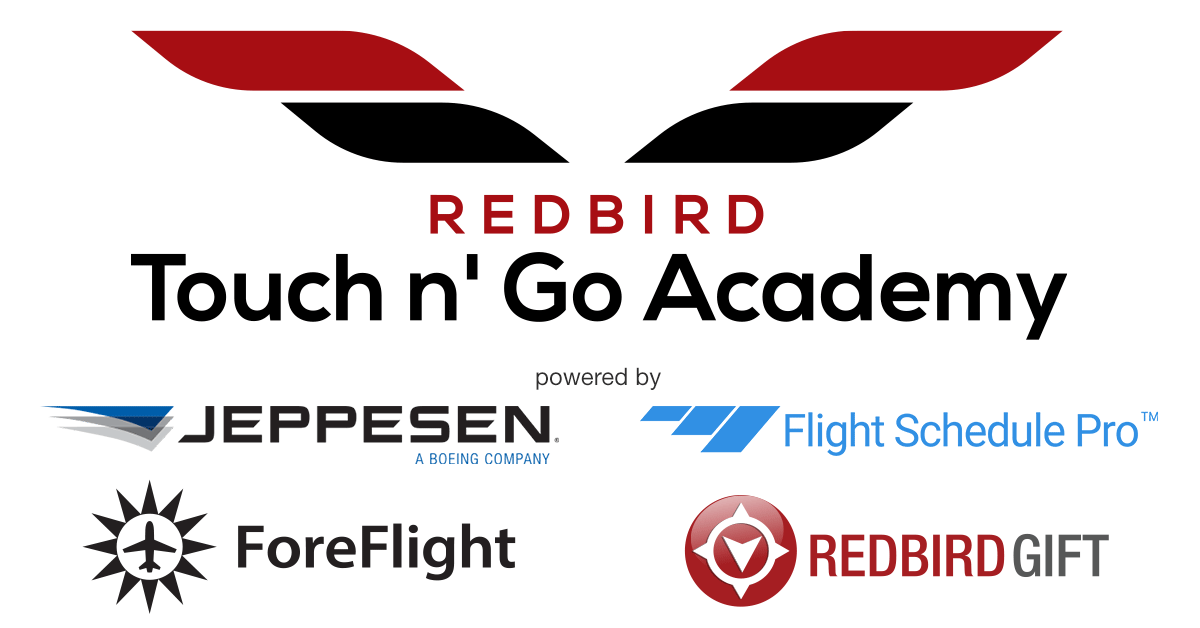 You'll have access to easy online scheduling with Flight Schedule Pro, a comprehensive library of flight training reference material from Jeppesen, the industry leading EFB from ForeFlight, and a full suite of Redbird Aviation Training Devices, including the full-motion MCX. Guided Independent Flight Training (GIFT), Redbird's AI-powered flight training supplement, will allow you to learn, practice, and get feedback on every maneuver and task required for your training. With in-depth post-flight reviews and trend tracking, GIFT will monitor and assess your progress throughout the week.
This is going to be fun. To view the eligibility requirements, sign up for ground school, and schedule loggable training time with FAA Certified Flight Instructors, visit the Touch n' Go Academy page.
Product Demos
AirVenture Oshkosh is a great opportunity to see our products in action and test them out for yourself. To find and discuss the simulation options that are best suited for you, we'll have a diverse lineup of devices in our tent this year: the Redbird MCX, FMX, TD, TD2, Jay Velocity, and Alloy Home Simulator Controls. We also will be introducing a new and exciting configuration of our Cockpit Specific Trainer (CST), which provides a knob-for-knob replica of your aircraft's cockpit and its actual avionics. The new device will offer an effective and affordable option for advanced aircraft and avionics training, and we're looking forward to unveiling it next week.
Our supplementary flight training technology also will be on full display in OSH. GIFT Private Pilot, our simulator-based maneuvers training supplement, will be installed in all the simulators for demos and used for live training in the Redbird Touch n' Go Academy. Insight, our external monitoring and debriefing station, will provide a live cockpit view of the flights in session. Tracon, our single, easy-to-use interface for overseeing and controlling multiple simulator sessions simultaneously, will be connected to all the simulators in the booth to demonstrate how you can better manage your fleet of training devices.
And that's not at all. Live from the red carpet in the Redbird Tent, we'll have multiple product releases that will better prepare pilots for 2020 and beyond. If you have any Redbird training devices, or you're thinking about getting one, you'll want to see this.
To schedule a demo of our training devices and technology, find an available time slot on the calendar here.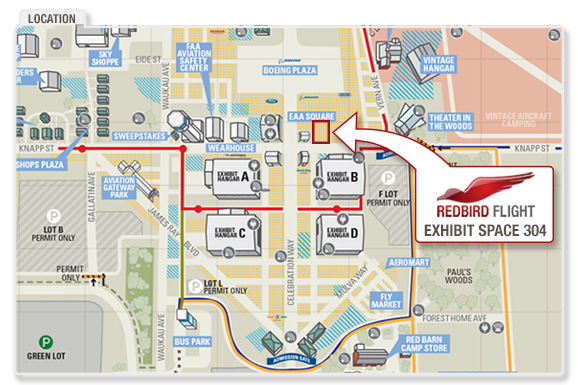 The Redbird SIM Lab
Taking place live in the Redbird Tent all week, the Redbird SIM Lab offers interactive, hands-on training to create a fun and impactful learning environment. From STEM courses for students in grades 6-12 to workshops for automating flying clubs, we have content tailored to a multitude of age groups and experience levels. The Redbird SIM Lab is a great opportunity to discover (or re-discover) the joy and challenge of aviation. Add your favorite forums and courses to your itinerary in the EAA AirVenture Oshkosh daily schedule and reserve your spot here.
---
The EAA Pilot Proficiency Center
Booth EAA 4 - Main Aircraft Display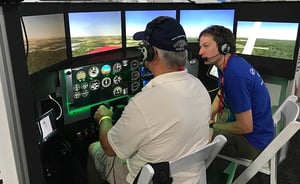 The Pilot Proficiency Center (PPC) gives pilots of all skill levels a chance to advance their aviation abilities, network, and become more familiar with the proficiency tools and resources available to them. If you've participated in the PPC in the past, then you know that it features 14 of our LD simulators and our Xwind trainer. Well, this year, the training technology will be even more effective for instructors and pilots to train for IFR and VFR proficiency. We've upgraded all the simulators with newer, faster computers and our new visual system, which features 27-inch displays. Whether you're immersed in the clouds like never before or taking advantage of a clear view of the runway on a flight's downwind leg, the training capabilities of the new devices are sure to enhance the experience this year in the PPC.
AirVenture Oshkosh 2019 also will kick off EAA Proficiency365, a new initiative that advances pilot proficiency by making multiple tools and programs more accessible to pilots year-round. In support of Proficiency365, we'll be announcing a new development with EAA next week at the show. Stay tuned.
---
The NAFI Professional Development Center
Booth 419 - Main Aircraft Display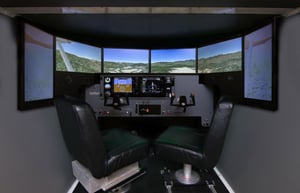 The NAFI Professional Development Center (PDC) will feature a 75-seat theater for educational presentations by NAFI members and industry experts, and a simulator classroom equipped with a Redbird MCX dual control simulator. Using the sim, NAFI-member CFIs will pose as "students" to participating CFIs by presenting a challenging scenario. Josh Harnagel, Redbird's VP of Marketing and a CFI, CFI-I, and MEI, also will provide one-on-one training sessions several times throughout the week. Visit the PDC home page for more information.
---
The Warbirds Youth Education Center
Near the Warbirds Living History Encampment - Warbird Alley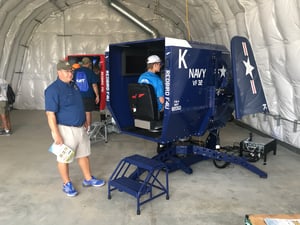 Located in a Quonset hut in Warbird Alley, the Warbirds Youth Education Center aims to introduce young people to aviation through classic warbirds. It's a fantastic initiative, and a reliable location on the grounds where kids can pilot our full-motion simulators (which are configured to some of the coolest warbirds ever). We had a full-motion P-51 Mustang simulator and a full-motion Vought F4U Corsair simulator at the education center last year, and let's just say there will be even more flying time to go around in 2019.
---
Partner Exhibits
EAA Spirit of Aviation Mobile Experience (SE Corner of the Four Corners - Main Aircraft Display)
Take one of the Redbird TD simulators for a spin, experience EAA 360-degree virtual reality videos, build a foam glider, and take part in a sheet metal cookie cutter project. It's fun for all ages!
Sling Pilot Academy (Booth C35B - Education & Career Center)
Fly a Redbird TD2 and talk to the team at Sling about learning to fly in modern airplanes with glass cockpits, near the beach, and in one of the most coveted parts of the world for aviation. This is a great stop for aspiring airline pilots!
---
It's almost time. See you in OSH!