You are sitting just outside of your hangar. The engine is running, pre-flight checks are complete, and you are tuned to the Ground frequency. Another pilot is reading back an IFR clearance. After a few back-and-forths, you can finally get a word in:
"Executive Ground, Arrow 123G, hangars, VFR, 4,500 to San Antonio, with information Mike."
A few seconds later, the air traffic controller responds:
"Arrow 123G, Executive Ground, give way to a Global Express, Runway 13, taxi via A."
This everyday radio exchange is with a live controller, but it is not in a real Arrow. Instead, it is taking place in a flight simulator. You're at home operating the aircraft from your desk; the other pilot is doing the same from her house in upstate New York, and the controller handles the airspace from an apartment in downtown Houston. You are all connected in unified airspace using an online aviation network.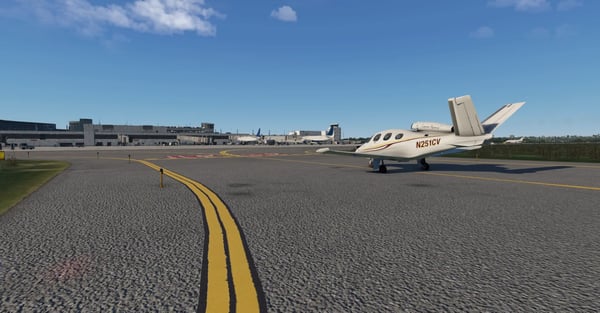 A pilot exits the runway at an airport in Maine. Virtual pilots worldwide operate the airplanes pictured here from their home flight simulators.
Home flight simulation is widely considered an essential flight training aid for student pilots and pilots. Whether for proficiency, familiarization with advanced avionics, or even to add time to the logbook, the ability to 'fly before you fly' has revolutionized flight training. Although flight simulators typically have built-in, artificial air traffic control, most experienced flight simmers use third-party products to fly with live, human, air traffic controllers and communicate via two-way audio streams.
Interacting with a simulated control tower unlocks incredible tools for building radio proficiency and confidence. However, ATC communication only scratches the surface of the benefits; flying with virtual controllers lets you sim the way you would fly. Just like in real life, you need to manage other traffic, unexpected radio calls, unclear instructions, and less-than-desirable situations as they arise.
Whether you are 'pre-flying' the maneuvers or tasks you will do in real life or just keeping your skills sharp by flying something beyond what you perform in your real airplane, ATC brings the experience to life. Flight schools, universities, and the military all use this technology to train pilots.
Getting Started With ATC on Your Flight Sim
Before you connect to an ATC system online, you should ensure you can accomplish the following:
Have a stable internet connection

Have a home flight simulator setup

Own a headset and microphone through which you can communicate with ATC

Operate your aircraft comfortably within the simulation. You should be able to hold altitudes, fly assigned headings, and navigate (under VFR or IFR).
Once you are ready to add ATC to your home flight simulation experience, connecting online is as simple as starting a simulated flight and using an application that connects your flight simulator to the online network. These apps, provided by the networks, display the aircraft of other pilots in your airspace and enable real-time audio feeds and communication with air traffic controllers.
If you fly in the United States, there are two main networks to consider: VATSIM (free) and PilotEdge (subscription). Both services support the major flight simulation platforms (Microsoft Flight Simulator, Prepar3D, and X-Plane) and are compatible with Redbird flight simulators and for use with Redbird flight controls.
VATSIM
VATSIM, short for the Virtual Air Traffic Simulation Network, is a free, global network available around the clock. However, air traffic control coverage is not guaranteed. In most parts of the United States, ATC will come online a few days of the week, often during weekday evenings or weekends (VATSIM has procedures to allow pilots to fly even when ATC is not online).
You can simulate almost any type of flying on VATSIM, such as non-towered airport operations, and use a variety of aircraft — floatplanes, helicopters, airliners, general aviation planes, and more. Anyone can join the network by reading a few training materials and completing a short knowledge test. With more than 100,000 active VATSIM members, it is common to see over 1,000 pilots connected to the global network at once throughout the day, with more online in the evenings and on weekends.
PilotEdge
PilotEdge is a subscription-based service that provides professional air traffic control 15 hours a day, seven days per week. PilotEdge designed its virtual environment to cater primarily to certificated pilots and flight simulation enthusiasts up to the challenge of flying in an ATC system that supports real-world flight training.
ATC coverage is always available during service hours — one of the main advantages of this paid service. Additionally, the radio system is the most true-to-life of any online network, allowing pilots to reach air traffic control on published frequencies rather than having to reference a controller list to see who is online. However, the ATC coverage of PilotEdge is limited to the western half of the United States.
Like on VATSIM, PilotEdge features regular events, structured learning flights, and an active community of pilots and flight simmers. You can join PilotEdge for $20 per month after taking advantage of a free, five-hour trial.
Resources to Help You Get the Most From Your ATC Practice at Home
If you have ample real-world flying experience and a home flight simulator setup, then you have everything you need to take advantage of an online ATC network. However, if you are a student pilot or flight simmer who is nervous about talking to a virtual controller, you are not alone! Almost a quarter of flight simmers report feeling the same way. Fortunately, there are plenty of great resources available to help you learn and practice.
The Flight Simulation Association
FSA offers several free resources on getting started with home flight simulation and online ATC, including a recent webinar that provides an overview of VATSIM and a step-by-step walk-through covering how to sign up and use the service. FSA Captains receive a 30-minute orientation session with an experienced 'simmer,' which you can use to ask questions about adding ATC to your home flight simulator. You also can reach out to me directly at evan@flightsimassociation.com. I am always happy to talk flight sim!
YouTube Tutorials
YouTube has a vast library of flight simulation content, including tutorials specific to setting up and using PilotEdge and VATSIM. From connecting to the online community to learning how to talk to air traffic control, you can find tons of free and helpful tutorials from experienced flight simmers on YouTube.
Boston Virtual ARTCC
Boston Virtual ARTCC (BVA) is a free, immersive, and realistic community for pilots and aviation enthusiasts on VATSIM. After you apply to join, BVA will provide you with step-by-step instructions and a quick knowledge test to confirm you are ready to fly.
Community Aviation
Community Aviation connects learners with subject matter experts in all areas of aviation, including flight simulation. Community offers one-on-one consultations to help you start using PilotEdge, troubleshoot technical issues, or streamline the set-up process.
FlightSimExpo
FlightSimExpo is North America's community-driven flight simulation conference. The event brings flight simulation enthusiasts together with manufacturers and developers from across the flight simulation industry, including ATC networks. FlightSimExpo features seminars led by airline pilots, air traffic controllers, flight instructors, aircraft dispatchers, and more. You can attend the event this year in-person or online on September 24-26. Registration is now open.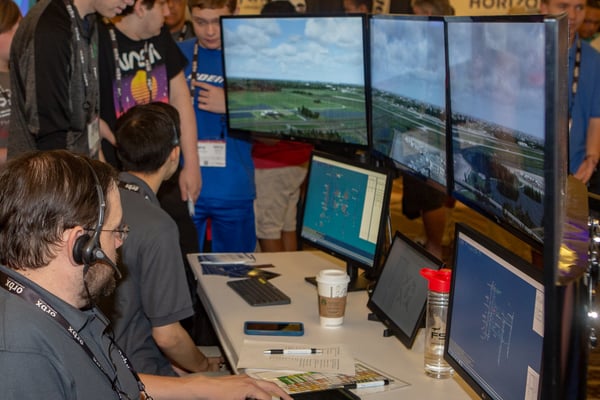 Controllers from VATSIM provide air traffic control coverage at Orlando International Airport (MCO), live from FlightSimExpo in 2019.
---
Evan Reiter is an airline pilot, flight simulation enthusiast, and the co-founder of the Flight Simulation Association and FlightSimExpo. He is also a virtual air traffic controller and part of the online pilot and air traffic control community Boston Virtual ARTCC on VATSIM. Evan credits time in his home flight simulator for helping him reach the airlines, and for making him a safer pilot every day.