For aviation enthusiasts, student pilots, and experienced pilots alike, a home flight simulator can be a great investment. When used correctly, a simulator helps you learn the principles of flight, become familiar with aircraft controls and instruments, develop and maintain maneuvers proficiency, and—if you have a certified device—log instrument currency or time towards your license and ratings. However, as with most things aviation, expenses pile up if you're not realistic and strategic about your goals and what you need to achieve them. To get started with home flight simulation, here's what you should think about first.
Software
If you're building a home simulator from scratch, then you need to start with the simulation engine (assuming you already have a capable laptop or desktop computer). You have several, viable options for powering your home simulator. These include gaming software that fit specific niches. Digital Combat Simulator World (DCS World), for instance, is a popular software for enthusiasts of military gaming. On the other hand, for pilots and enthusiasts who require versatile and realistic simulations of general and commercial aviation, Prepar3D®, X-Plane, and Microsoft Flight Simulator 2020 are popular options.
Lockheed Martin Prepar3D
Lockheed Martin's Prepar3D provides an immersive simulation experience for private pilots, commercial organizations, militaries, and academia. It furthers the development of Microsoft® ESP™ while maintaining compatibility with Microsoft Flight Simulator X. Therefore, many thousands of add-ons can be used within Prepar3D. Lockheed Martin offers a few different options for licenses. For version five, a Professional License costs $199 and an Academic License costs $59.95.
X-Plane
X-Plane is an appealing option for flight simulator users as well. Known for its flight models, graphics, and smooth frame rate, X-Plane 11 is available via DVD or digital download for $59.99. Laminar Research also offers a professional upgrade to support commercial use and FAA certification. No matter which version you have, X-Plane supports various aircraft models, scenery, and plugins.
Microsoft Flight Simulator
The features of the new Microsoft Flight Simulator have been well-documented online since its release in 2020. Among them, the graphics stand out the most. Microsoft Flight Simulator 2020 leverages aerial photography from Bing maps to create a realistic 3D world for you to navigate. Accordingly, you need a powerful PC or an Xbox game console to run Microsoft Flight Simulator on its highest settings. Pricing starts at $59.99 for the standard edition.
Any of these simulation engines is a sensible building block for your home simulator. Most hardware and additional software that you purchase will be compatible with Prepar3D, X-Plane, and Microsoft Flight Simulator.
Hardware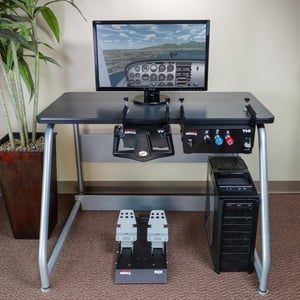 Once you've chosen your simulation engine, your next purchase should be hardware that accurately emulates the experience of flying an aircraft. A standard computer mouse can help you navigate and learn the cockpit of an aircraft. However, once you begin performing maneuvers, a quality yoke, throttle, and a set of rudder pedals will help immensely. Presumably, flight controls will be the largest investment in your home simulator. So, it's important to make your spend count. Here are some decisions you'll need to make:
Metal v.s. Plastic Controls
Plastic controls generally offer a cheaper price tag, but cheaper quality as well. Therefore, they're well-suited for the casual gamer, and perhaps as a stopgap for pilots who are purchasing their first home simulator controls. Both in terms of realism and durability, metal flight controls provide a superior simulation experience. Metal controls are a bigger investment, but they can add more realism to your home-built simulator than any other product.
Yoke v.s. Joystick
Joysticks are a popular controller for many home simulator users. Especially for combat simulator enthusiasts and pilots of aircraft with sidesticks, joysticks are an attractive option. However, for the typical pilot or aviation enthusiast, a high-quality yoke will add the most fidelity to a home simulator. A good yoke will allow you to experience full control deflection without increasing spring tension. Force feedback yokes can add an additional layer of realism, but at a price that generally exceeds three figures. A high-quality, metal yoke, without force feedback, will support the goals of most home simulator users.
Which aircraft you fly the most
Flight simulation software offers hundreds of aircraft options, and developers are constantly updating them and adding more. Undoubtedly, you'll enjoy flying many of them. That said, when you're building your rig, you should be realistic about which aircraft you fly the most. In addition to influencing the yoke versus joystick debate, the configuration of your primary aircraft should inform your choice of throttle. Do you need a vernier or lever style? Do you mostly fly single or twin-engine aircraft? To get the most bang for your buck, you'd be wise to factor in aircraft configurations prior to making your first purchase.
How you will mount your controls
As you get into the weeds of software and hardware features, the logistics of setting up your simulator can understandably become an afterthought. Even so, the realization that you don't have a plan for mounting your hardware is a harsh one. Most hardware providers include information for mounting their equipment to your desk, but you'll definitely want to a) confirm that, and b) ensure that the manufacturer's recommendations are congruous with your plans and preferences. Beyond enabling basic use, your hardware setup should take into consideration ergonomics as well. If it's positioned too high or too low for normal aircraft operations, even an ultra-realistic yoke quickly feels unnatural. Don't forget the rudder pedals, too. Sure, they're just going to sit on your floor, but you should determine whether they'll slide when you apply force.
Lastly, as you're shopping the market for flight controls, be sure to check for compatibility with your software of choice. Most controls are equipped with a USB port and simple installation instructions. That said, some are easier than others. Prior to purchasing your controls, you should be confident that they'll be easy to connect and calibrate.
Add-ons
To get started with flight simulation, a simulation engine and flight controls are all you need. However, based on your individual goals, you may benefit from additional products for your simulator.
For aircraft and airport familiarization
New aircraft and scenery packs are released regularly. For a small sum, you can add these to your simulation software to practice new approaches and study new cockpits.
Related Content: 3 Great Approaches to Get Your Blood Pumping
For visual flying
Monitor expansions are helpful. Without instructor oversight, many inexperienced pilots default to their instruments when they fly a simulator. By allowing you to see more of the horizon, a larger monitor can solve that issue. Even better, two additional monitors will provide you with visual cues in your periphery. Particularly when the aircraft's nose is up, or when you're practicing maneuvers like steep turns, side monitors are extremely helpful.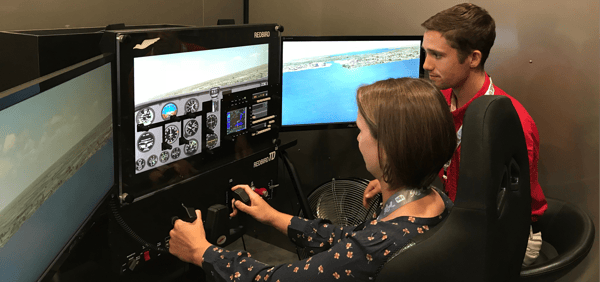 For instrument flying
Simulated glass and six-pack avionics add fidelity. Software additions allow you to simulate the newest avionics on the market. Hardware additions allow you to interact with buttons and knobs like you would in the aircraft.
For air traffic control communications
A few services allow you to simulate ATC. For hobbyists, VATSIM is a free, online platform to try. It allows virtual pilots, wherever they reside, to connect their flight simulators into a shared virtual world with live ATC. For students, instructors, pilots, and serious simulation enthusiasts; PilotEdge provides professional air traffic control for flight simulators. For $19.95 per month, you can work with live air traffic controllers 15 hours a day and engage your "flying brain" from home. PilotEdge allows you to see other aircraft and hear other pilots on the radio.
If you're just starting in aviation, you can use a basic gaming headset (with a microphone) to practice ATC communications. For experienced pilots, it's wise to consider purchasing a converter box for the headset you're accustomed to using in the aircraft. This product converts aircraft-style plugs into standard computer audio jacks, enabling seamless, two-way communication with your aviation headset.
For training with aviation apps
You can purchase software that allows you to run your favorite aviation apps in conjunction with simulated flights. Through a wireless connection to your phone or tablet, you'll be able to share your simulated aircraft's location, speed, heading, altitude, and GPS lock status with ForeFlight, Garmin Pilot, and more.
For maneuvers training
Guided Independent Flight Training (GIFT) provides pre-flight instruction, real-time feedback, and post-flight scoring for every maneuver required for your private pilot's license. If you want to get a pilot's license faster and for less money, or stay proficient in the most common aircraft maneuvers, GIFT can help you reach your goals.
Related Content: A Virtual Plan for the Real World
Plug and play options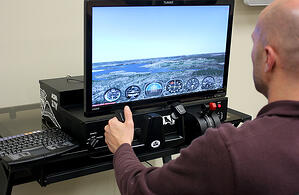 For many hobbyists and aviation enthusiasts, customizing a flight simulator is an enjoyable aspect of home simulation. However, if your goals with a home simulator are specific to flying, then an all-in-one desktop device might be preferable.
Pilots often opt for a plug and play option if they want one or more of the following:
To start flying without configuring or installing anything
To have preset flight scenarios
To log instrument currency or time towards a PPL or rating
To purchase specific add-ons, like GIFT, which are incompatible with home-built devices
To find the most cost-effective way to purchase multiple add-ons
Related Content: [Webinar] Using a Redbird to Maintain Proficiency at Home
Questions?
We're happy to help. Since 2006, Redbird has made aviation more accessible by using modern technology and careful engineering. Our products range from home simulator controls to full-motion training devices. Give us a shout and we'll help you find a simulation solution that fits your goals.