Your love of aviation has propelled you to open a flight school. You've assured your significant other that your new venture will be a huge success. So, how do you survive and prosper when statistics prove that approximately 50% of new businesses fail during the first five years of existence?
1. Pick the Low Hanging Fruit
To thrive, it's time to think first about your expenses—where you should trim the fat and where you should spend. Have you ever complained about not having enough money in your wallet or purse, and then you promptly drove to your local boutique coffee shop and shelled out $5 for a caffeinated drink you can't pronounce, in a size that you know even Webster won't recognize?
The mistake isn't having your daily Venti, Iced, Sugar-Free, Vanilla Latte With Soy Milk. The mistake is not recognizing the true cost of a non-essential or discretionary expense. The same holds true for your flight school expenditures. Don't make a Venti mistake.
For those currently in the business, go back at least three months—preferably a full year—and look at each daily expense. Pour over your records line by line and ask yourself if each expense either was an essential cost of starting your flight school or is an essential cost of operating your flight school now (see: 'cost of doing business').
Identifying essential expenses becomes simple when you ask yourself if a given expenditure developed out of a "want" or a "need." Good examples of company needs are insurance, payroll, and utilities. Wants, on the other hand, include a lavish lobby, office cleaning crews, the shiny vacuum that Mr. Dyson implores you to buy in "5 easy payments," and the Costco-size case of bottled water that inhabits the corner of your office.
Of course, in a business in which customer experience is paramount, you shouldn't allow your facility to look like a college dorm room. However, if you put in the extra work, trimming these discretionary expenses will improve your bottom line immediately.
2. Know How to Wear Several Hats
As a new flight school proprietor, you may not draw a weekly paycheck yet, but your employees certainly will receive one. Payroll expense is one of the highest outlay percentages to your flight school's revenue. While it is a non-discretionary expense, there are still ways to control it and manage it effectively.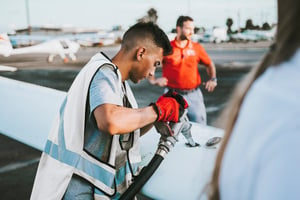 First, you should determine if a staff position exists out of a want or a need (sound familiar?). As a new entrant in the flight school business, do you really need a receptionist or an office manager? As an owner, you will wear many hats. Add Receptionist to your list of job duties and save that expense.
One of your existing employees also can serve double duty to fill that role. In new or small flight schools, it's common for CFIs to assist at reception and with aircraft scheduling. It makes good business sense to serve double duty—both for the owner and the flight instructors.
Good first impressions are important, if not imperative, in an industry that requires an emphasis on safety, knowledge, and professionalism. Staffing the front desk with employees who are in the daily trenches can add a level of credibility and trust for potential student pilots. Since more students mean more flight hours, your instructors who serve in this role will benefit as well.
In general, introducing employees to the various aspects of your business will help them grow within the organization. In lean times, it also prepares your organization to maintain efficient operations regardless of the circumstances.
3. Invest in Your Flight Instructors
Once you have an established crew, it's important to retain it and allow your employees to develop their careers with your company. The demand for pilots is a real thing and not a marketing ploy by the industry.
While the pilot shortage has been brewing for several years, the growth of the airline industry—along with a higher demand for regional airlines—has contributed exponentially to the poaching of Certified Flight Instructors from flight schools just like yours. Add to that commercial pilot retirements happening at Mach speed, and you have the recipe for unprecedented turnover of your valuable CFIs.
So, how do you keep them happy?
Recurrent Training
It doesn't take Nostradamus to tell you that flight instructors are happiest when they are in the air. First and foremost, if you keep your CFIs flying, then you will keep them happy.
One of the easiest and most desirable ways to build a cohesive and loyal relationship with your CFIs is to provide them with additional opportunities to learn. Initially, this may seem counterintuitive. As your flight instructors build flight time and experience, they also become more valuable in the marketplace as qualified pilots. However, providing and paying for recurrent training (either at 100% or on a shared basis) will establish that you are willing to invest in their future.
Ultimately, it's an investment in your future too. The best flight schools recruit, train, and try to retain the best flight instructors they can find. Think of it this way: recurrent training for your flight instructors takes the place of initial training for new instructors. The former is better both for your student pilots and your business.
Additionally, as your business grows, there will be an organic growth in the type of aircraft that your CFIs will be able to fly. Whether it's in a training capacity or a Part 135 role, every CFI wants to expand his or her depth of knowledge and get a feel for as many different birds as possible. It's just how we pilots are wired.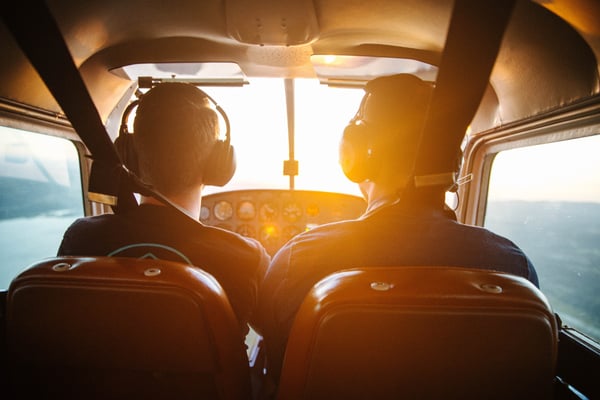 Flight Instructor Salaries
Unaccompanied by other benefits, the opportunity to build time will not keep your flight instructors onboard anymore. Increasingly, the airlines are recruiting pilots with fewer flight hours, and they will pay a pretty penny to poach your experienced flight instructors.
While sizable pay increases for your instructors may not be possible as you first enter the aviation industry, find a way to add reasonable salaries into your flight school's business plan. Whether you pay your flight instructors an annual salary or a competitive hourly wage, you have to pay them what they're worth—especially if they're helping with sales and customer service as well.
Treat your CFIs as career employees, not as a commodity. Let them grow and build your business alongside you and other team members. Make them a true partner in your quest for profitability, and you will see positive results.
Other employee roles should follow the same guidelines. These include any maintenance personnel or ancillary workers you employ.
Benefits
While, initially, you may not be able to provide a full menu of benefits, you still can offer a reasonable benefits package, based on seniority, such as paid vacation and paid sick days.
You also can establish relationships with other local businesses (hint: become a member of your local Chamber of Commerce) and offer your employees negotiated discounts to these other establishments. These could include local health clubs, restaurants, and retail stores, to name a few. This also allows you to introduce yourself to those businesses and to offer special benefits to their employees. These could include discovery flights or sightseeing excursions.
Monthly incentives, contests, company outings, and the like also are positive ways to build employee loyalty and retain your most important asset.
4. Research Your Aircraft Leasing Options
Now, let's talk about aircraft. As you explore how to start your aviation business, you'll need to decide how to acquire the aircraft for your flight line. The most common and least risky method for acquiring aircraft for your new flight school is to lease the aircraft back from an existing owner.
Many aircraft owners find that they do not fly their airplanes as much as they once anticipated. Turning their airplane's time in the hangar into flight time will help them defray the cost of ownership along with the recurring fixed costs they incur. At the same time, it is a way for you to acquire training resources with limited capital outlay, which reduces your debt load and still provides desirable aircraft for your flight line.
5. Acquire a Flight Simulator
While it may be a non-essential expense when you are first starting a flight school, a flight simulator is a rare investment that helps you increase your revenue and decrease the cost of regular flight school operations. If you can work a flight simulator into your budget, it will become a valuable asset for several reasons: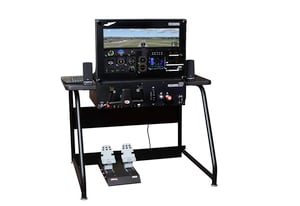 Flight simulators provide a safer, cheaper, and less overwhelming classroom for your student pilots. Therefore, a simulator can help you retain more of the students that begin flight training with your organization.
With regular simulator usage, your flight school will save on aircraft fuel and maintenance and make better use of your instructors' time. Even if you charge half the hourly rate of your aircraft for a flight simulator, the low operating costs of simulators allow for a higher profit margin.
If your curriculum allows student pilots to practice in the simulator independently, then you can increase the number of customers each of your flight instructors can train. In other words, you can form a smaller team of better quality, better-paid flight instructors.
Like with your aircraft, acquiring a flight simulator with limited capital outlay is a priority. When you're first starting a flight school, investing in a Basic Aviation Training Device or an affordable Advanced Aviation Training Device will be best for your cash flow. A Basic Aviation Training Device—which is the entry-level certified device under FAA regulations—requires less overhead, but it's still an effective trainer for your customers and allows them to log time.
The Bottom Line
As a new flight school, your dollars are spent most productively on the flight training experience. Your employees and flight training technology will influence how student pilots perceive your flight school and how they succeed in it. And, effectively, their success is your success. If you focus on the people who enter your doors every day—your customers and your staff—the rest will fall in line as you start to grow your business.

As you ponder your journey into the rarified air of the flight training business, remember that in 1971 Jerry Baldwin, Gordon Bowker, and Zev Siegel had a dream of their own. They started not unlike you with passion, desire, and a love of their industry. By foregoing Venti-sized expenditures in the short run, they accomplished a Venti-sized result in the long run: the largest coffee-house chain in the world.
Will you also have that vision? Perhaps you should contemplate that over a cheaper cup of coffee. They'll understand. Hope to see you on the flight line soon!