In less than a month, aviation enthusiasts from around the world will arrive at Wittman Regional Airport for the greatest aviation celebration in Oshkosh, Wisconsin. Taking place July 25-31, AirVenture 2022 will feature some of the top air show performers in the world and an impressive list of exhibitors working to improve the aviation industry.
During the event this year, our focus is on providing resources to pilots to help maintain and improve their proficiency, encouraging and inspiring the next generation to pursue their aviation dreams, and spending quality time with the many flight instructors, flight schools, and educational institutions that are the backbone of general aviation. Here are a few things we are looking forward to the most during a jam-packed week at OSH.
The Redbird Booth
Located at booth 304 in the Main Aircraft Display, the Redbird tent is our main hub at AirVenture. It's the best place at the show to connect with the Redbird team to talk about the industry we all care about so much.
This year, we'll have special giveaway items in our booth for current Redbird customers. If you own a Redbird device for home or professional use, be sure to check in at the customer kiosk to get your swag!
If you are interested in learning more about our product line and where it's headed, our booth provides a valuable opportunity to experience Redbird technology firsthand. It will feature a vast collection of Redbird training devices for you to take for a spin and engaging stations that demonstrate the different ways our technology can be used to enhance the learning experience for students, pilots, and flight instructors alike.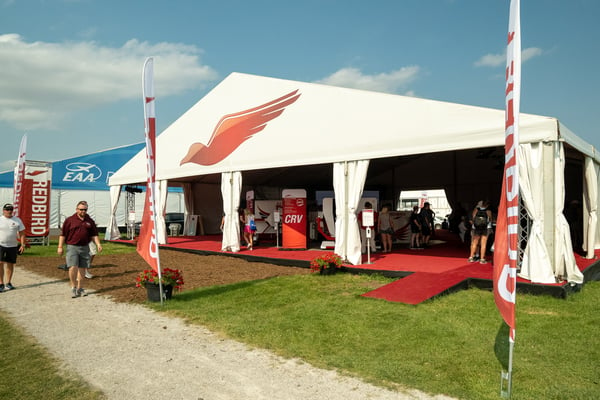 Redbird Pro
Our new proficiency training app, Redbird Pro, will be front and center at AirVenture 2022. Designed to help you improve and maintain your proficiency, Redbird Pro tailors training — flight simulator scenarios, articles, quizzes, and more — to your individual needs and goals as a general aviation pilot. Every subscription includes a 30-day free trial. Stop by our booth to learn how to take full advantage of Redbird Pro in your proficiency training.
The Redbird STEM Lab
Taking place from Monday, July 25 to Saturday, July 30, the Redbird STEM Lab is a great opportunity for students in grades 7-12 to learn about aviation through engaging workshops and flight simulator missions. Classes in the STEM Lab range from introductory aviation topics to advanced aviation weather.
Check out the STEM Lab class schedule and register to take one of the classes!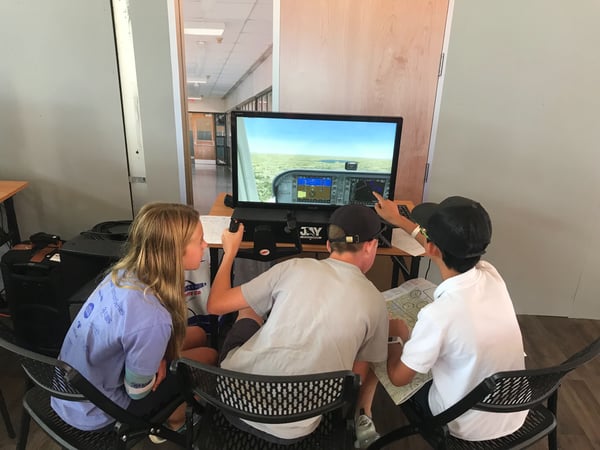 Product Demos
This year, we will be displaying the Redbird MCX, SD, CRV, TD, TD2, Jay Velocity, and Alloy home flight simulator controls. Book some time with our team to find which device best suits your needs and helps you reach your goals. Schedule your demo here.
Beyond the Redbird booth, you will find our training devices and technology all over the grounds.
The New-Look Pilot Proficiency Center
A popular destination at AirVenture for VFR and IFR pilots, the Pilot Proficiency Center has moved to a permanent location attached to the EAA Aviation Museum. With the move, the PPC will now be accessible to pilots year-round for training and networking.
But the location is not all that has changed. This year at AirVenture, pilots will have the opportunity to register for a free half-day clinic that includes keynote presentations, interactive and engaging breakout sessions, skills enhancement, and challenging scenario-based training in one of EAA's Redbird Advanced Aviation Training Devices.
Spots are filling up fast! Register today to reserve your place in a free half-day PPC clinic.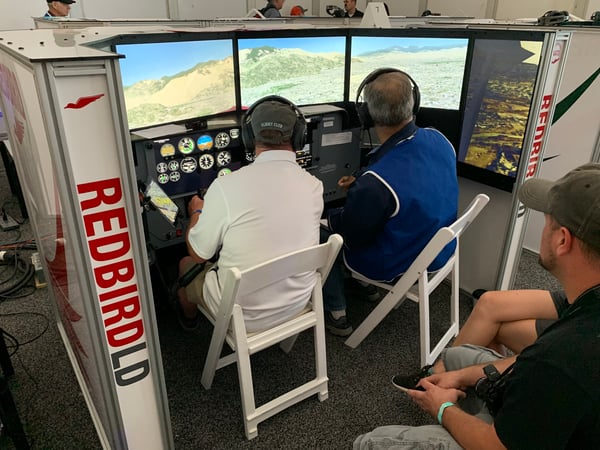 Warbirds Youth Education Center
In Warbird Alley, you will find an awesome initiative by EAA to encourage young people to pursue their interest in aviation. The Warbirds Youth Education Center features five Redbird full-motion flight simulators that are configured to imitate classic Warbirds, like the P-51 Mustang and the F4U Corsair. Open daily from 9:00 a.m. to 3:00 p.m., and free to enter, the exhibit is a can't-miss for families with kids who want a taste of what it's like to fly these timeless military aircraft.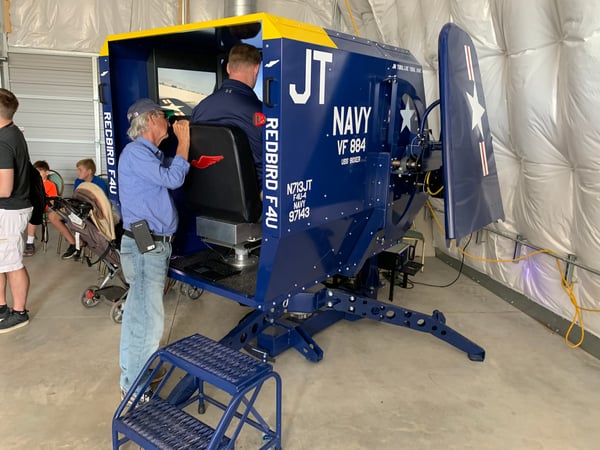 The NAFI Professional Development Center
As part of its 55th-anniversary celebration, the National Association of Flight Instructors is adding even more programming to the Professional Development Center at AirVenture! Throughout the week, NAFI will host 30-plus presentations from experienced instructors and subject matter experts, including Redbird Vice President of Marketing, Josh Harnagel.
If you are a CFI who is looking for learning and networking opportunities at AirVenture, the NAFI Professional Development Center is one of the best places on the grounds to enhance your knowledge and skills.
Learn to Fly Center
If you are just getting started on your flight training journey, the Learn to Fly Center is a great place to find resources, tools, and introductory training that will help you on your path to becoming a pilot. The Learn to Fly Center will have Certified Flight Instructors onsite to answer any questions you might have about flight training and provide guidance on the steps you should take along the way. With daily forums running into the afternoon, tools to help you find a flight school, and opportunities to get time on a certified Redbird training device with a CFI, the Learn to Fly Center will have you well on your way to pursuing your private pilot certificate.