It's a misconception that the sales process for flight schools has become more passive. Sure, prospects don't pick up the phone as much. And yes, they rarely visit your facility unannounced. If they want information about flight training, they'll surf the web from their couch. That's true. Yet, it's also where the disconnect lies. The sales process hasn't become more passive; it has become more transparent.
Without speaking to you, prospects now can see a street view of your facility, read reviews of your instructors, and get price estimates for your training programs. For an industry centered on in-person interaction, this can be strange and even undesirable. However, for your organization, it's an opportunity.
By now, you've heard plenty about creating an online presence.
"You have to list your business on Google!" "You have to set up a Facebook page!"
That's where it starts for every organization. For many flight training organizations, that's also where it ends. After completing a Google listing and a Facebook page, they become bystanders. Besides infrequent business updates, they don't participate in the flight training conversation. That's good news for you, because it allows you to control the conversation. To become a go-to resource for flight training information, here are five steps you can take now.
1. Get to Know Your Audience
If you've read our Inbound Marketing Guide for Flight Schools, you know that successful marketing campaigns hinge on accurate customer personas. By identifying characteristics of your customers, you can target prospects with similar characteristics and effectively message to them.
For flight schools, location is a good place to start. If your facility is in Boulder, prospective customers probably are too. At least, they're nearby. While eye-roll-inducing, obvious information is the cornerstone of your customer personas. Many variables to your prospects' decisions are evasive, but location is definite. Capitalize on that. Provide content that's specific to your town and airspace:
Flight plans and approaches to improve particular maneuvers
Flights plans that include views of landmarks or visits to nearby attractions
Expected weather patterns by time of year
Information about local airports, fuel prices, etc.
Posts on these subjects position you as an expert on flying in your area. They also drive organic traffic from searches such as "Boulder flight training" and "Boulder flight school," which prospects undoubtedly use when they are ready to find a nearby school.
Related Content: 3 Simple Ways to Get Your Flight School's Website Found
Flight schools often undervalue the "share potential" of location-specific content as well. If your content supports the objectives of local organizations, then they'll share it with their own followers. Imagine the following scenario. You write an article entitled "4 Flight Plans to Experience the Beauty of Boulder." For visibility, you post it on social media with hashtags like #Boulder #Colorado and #aviation. Beyond igniting the imaginations of prospective flight students, you've incentivized local government and tourism organizations to share your post. That's a huge leg up on your competition. Thought leadership in your community can be just as valuable as it is in the industry.
Beyond location, the data informing your customer personas can include age, education, occupation, and so on. When you combine the data, you create more holistic customer personas. For example, age and education may dictate a prospect's opinion on technology. Younger and more educated prospects may be more receptive to it.
2. Anticipate and Answer Their Questions
This is where understanding your customer personas pays dividends. Having the answers to a prospect's questions is great. It shows that you're knowledgeable. However, anticipating those questions and publishing the answers is even better. It shows that you understand your audience enough to proactively provide the right information. And, again, it expands your message to those who would rather surf the web than contact your directly.
To curate the right content for prospects, focus on two categories:
General flight training information for which any prospect will search
Unique information for which your customer personas will search
For general information, contemplate the 'drivers' that apply to every prospective flight student.
---
Anticipated Question: How much does flight training cost?
Content: 5 Steps to Reduce the Cost of Your Flight Training
---
Anticipated Question: How long does it take to get your PPL?
Content: How to Keep Your PPL Training on Track and on Time
---
Anticipated Question: What's the best flight school in [location]?
Content: The Qualities of Bad, Good, and Great Flight Schools
---
For the last example, you'd want to include your location in the meta description. That way, you'll be more visible to your prospects.

To brainstorm unique information, we'll need to have a specific, customer persona in mind. Let's target the persona we've been developing: a young, educated person living in Boulder, Colorado. We'll say the prospect is 27 years old and holds a bachelor's degree in Mechanical Engineering from the University of Colorado Boulder.
---
Anticipated Question: Do you need a certificate to fly in the mountains?
Content: How to Prepare Student Pilots for Mountain Flying
---
Anticipated Question: Where should I fly in Colorado?
Content: A Flight Plan for Your Next Trip to Steamboat
---
Anticipated Question: What technology helps with flight training?
Content: New Tech Products Perfect for Your Flight Training Syllabus
---
3. Begin Their Education
Don't forget that prospects are coming to you to learn. So, in addition to answering their questions, you also should address topics they don't know enough about to mention. If answers to their questions are the "what," then think of these topics as the "why." The "what" is the average cost of flight training. The "why" is the reason it costs that much. Embedded in these "why" topics are opportunities for thought leadership. For example, the cost variables of flight training might be new information for prospects. Outlining the cost variables–and highlighting the innovative ways in which you're driving down costs—positions you as a thought leader.
Aviation publications can give you an idea of the prevalent conversations in the industry. Don't be afraid to get involved in conversations, even if you're reiterating what others have said already. You're the one taking students inside the simulator and up in the air, so your opinions carry weight.
Related Content: How to Be a Good Instructor in the Cockpit, Classroom, and Simulator
4. Nurture Loyal, Non-Customers
This is the hardest part for a lot of flight schools, and most businesses for that matter. It's easy to invest time in a prospect when they seem ready to rocket down your sales funnel. It's much harder when they've settled on fifty acres atop it. How do you justify spending time and resources on such a prospect?
To borrow cliché fishing analogies, you justify it with a wide net. If you've carefully crafted your customer personas, then have confidence that you're in the right waters. If you're thoughtfully producing content, then have confidence that you're using the right equipment.
Imagine two prospects who fit the same customer persona. They have similar backgrounds and they're influenced by similar things. We can cast a net that theoretically catches both at once, but we can't see what happens underwater. We know that the prospects have similar values, but how they distribute weight to those values might be different. While Prospect 1 cares most about cost, Prospect 2 is more concerned with the time commitment of flight training.
If you write an article about cost savings, then Prospect 1 may sign up for training. Although cost is important to Prospect 2, he/she may await more information on the time requirements for flight training. Or, maybe Prospect 2 is waiting to start a new job or to see his/her kid off to kindergarten. Either way, your article helped convert Prospect 1 and nurture Prospect 2 at a slower pace. Once Prospect 2's concerns about time commitments are addressed, the information provided on cost savings could be a deciding factor. You never fully know when or why a prospect will come aboard. So, keep casting a wide net.
Related Content: 4 Ways to Help Your Flight Instructors Sign Up New Customers
5. Expand the Scope of Your Facility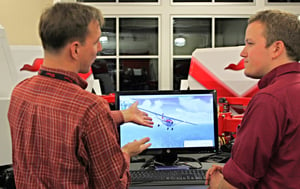 Your thought leadership campaign starts in the digital realm, but it isn't limited to it. Events, speaker series, and panel discussions help build a bridge between your web content and in-person, sales presentations.
Continuity is key to hosting successful events for your prospects. Don't follow up a months-long web campaign about final approaches with a panel discussion about takeoff procedures. Analyze your web content to see what's garnering the most views and click-throughs. Hone in on a topic that's ranking well with your prospects and expand on it with an in-person event. If your prospects are already familiar with the content of the event, then attendance will be higher, conversations will be better, and the impact will be greater.
For fear of the cost and staff required, many schools are hesitant to host events. If your school falls into this category, consider the following for your events:
Partnering with local chapters of general aviation groups to reduce your staffing requirements
Displaying promotional items for purchase (t-shirts, pilot supplies, etc.)
Charging a small cover for events with well-known speakers or when food and beverage are included
Lastly, schedule your events strategically. You don't have to maintain a certain cadence or commit to an annual events calendar. To get started, limit your events to those that support a broader marketing campaign.
Few flight schools can divert resources permanently from training operations, but all can incrementally implement thought leadership initiatives. In the information age, the ones that do will stand out from the noise.