It has been a tumultuous fourteen months at general aviation airports. The COVID-19 pandemic began to take shape in the United States last March, preventing the typical surge in flight hours that many airports anticipate at the beginning of spring. Yet, as social distancing ordinances persisted and measures to prevent the spread of the coronavirus improved, we saw pilots slowly return to the airport by fall to get out of their residences and to help deliver much-needed personal protective equipment to healthcare workers. Over that time, flight schools closed, but others opened in their place. The organizations that weathered the initial storm have seen an uptick in activity from returning students and new ones determined to achieve a lifelong goal or change careers with their newfound downtime. Local and national news outlets have covered these stories extensively throughout the pandemic. However, lost in the shuffle of this news cycle is the independent Certified Flight Instructor (CFI), who has been struggling silently to navigate an uncertain present and future.
What the Data Say
In our 2021 State of Flight Training Report, the differences in outcomes and outlook between flight training organizations and independent CFIs are substantial. When asked to rate their business results in 2020 on a scale of one to five, the average response from flight training organizations was 3.6. The average response from independent CFIs was 2.9.
The contrast between their business results in 2020 is evident from the activities and acquisitions they reported. Several participating flight training organizations said they expanded their fleets and increased their headcounts last year (Figure A).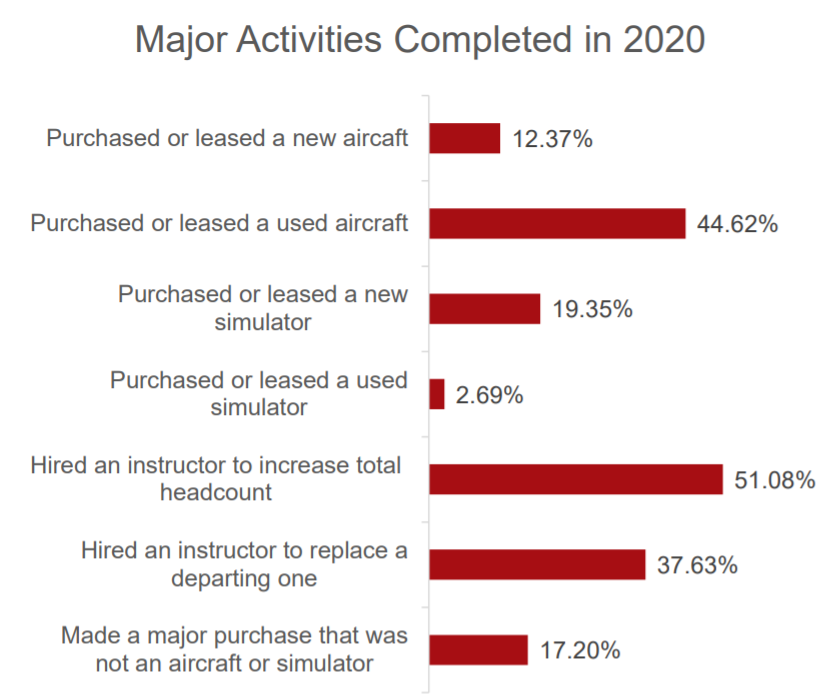 (Figure A)
Conversely, only 13.47 percent of independent CFIs reported that they purchased or leased a used aircraft last year; and the results for some of the other indicators of growth are even less encouraging. (Figure B).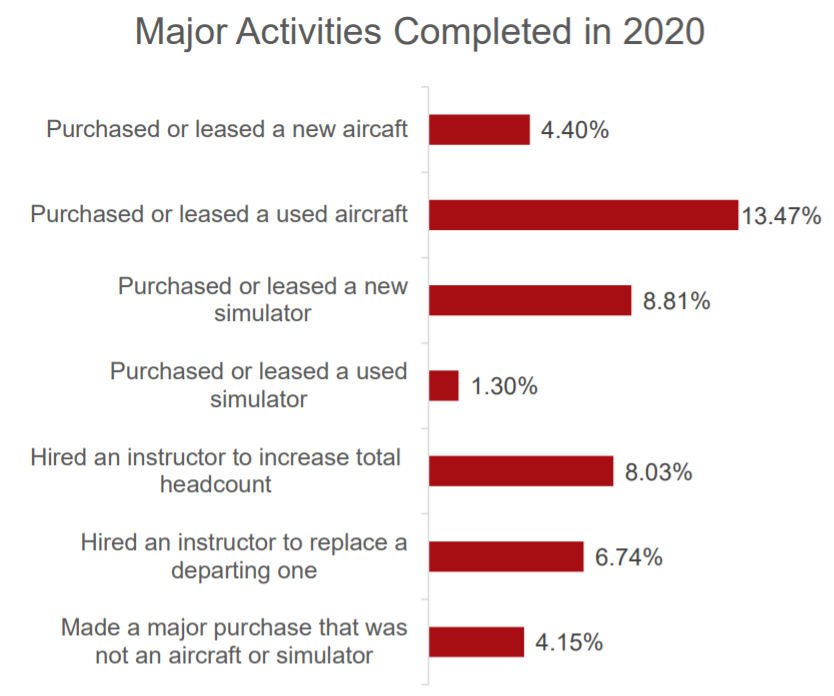 (Figure B)
While the business outlook of flight training organizations and independent CFIs are both trending in a good direction, there is still a notable discrepancy between them. On average, flight training organizations rated the outlook for their businesses this year at 4.0 out of 5. Independent CFIs rated the outlook for their businesses at 3.4.
Whereas flight training organizations are expecting a gradual year-over-year increase in headcount and major purchases (Figure C), independent CFIs largely are expecting their major purchases to stay the same or decrease (Figure D).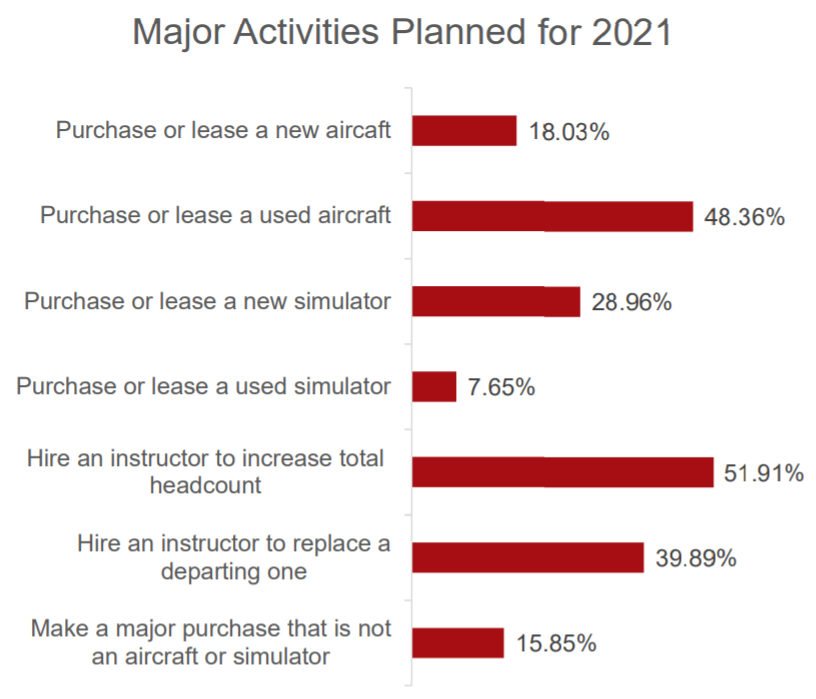 (Figure C)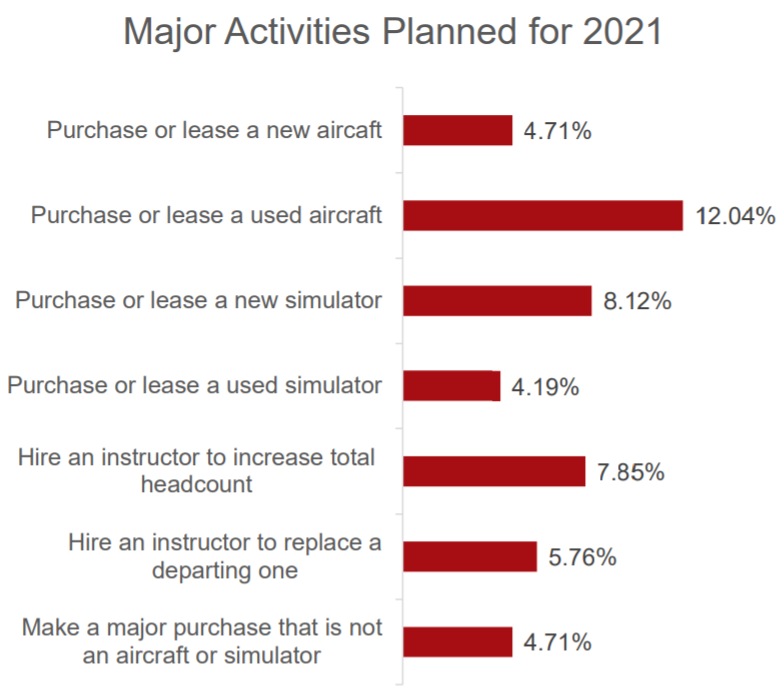 (Figure D)
What's Holding Back Independent CFIs?
Local and federal mandates and health guidelines have evolved constantly over the last year, and independent CFIs do not have the executive and administrative teams of a flight school to help research and implement the necessary changes. Even grappling with the moral implications of continuing to operate one's business during a pandemic can be challenging and stressful as an individual, which is especially true if the foundation of your business involves sitting in a small, confined space with your customers.
Independent CFIs also tend to skew older than their peers employed by flight schools (Figure E), which may have elevated their concerns about contracting the coronavirus. We have heard from several independent CFIs who chose to shut down their businesses temporarily for fear of making a misstep with COVID-19 restrictions and guidelines.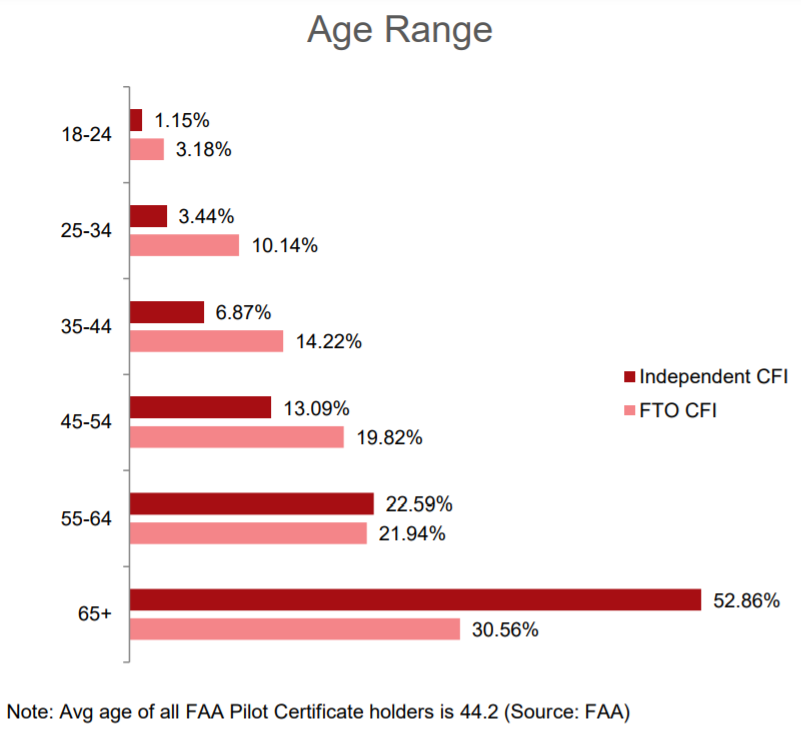 (Figure E)
Lastly, and crucially, the average independent CFI does not have the marketing engine s/he needs to reach customers and prospects during economic downturns and times of uncertainty. When customers stopped reaching out to independent CFIs last year, business stopped too. Meanwhile, flight training organizations produced videos on their COVID-19 policies, provided updates via their email newsletters, and used social media to instill confidence and trust in their operations throughout the pandemic.
Resultantly, as prospective students started to take advantage of their downtime to learn to fly, they consistently flocked to flight training organizations, and independent CFIs were left with the fraction of their existing customer base that felt comfortable flying with them during the pandemic. Even if independent CFIs wanted to stay open early in the pandemic, and they were able to navigate COVID-19 guidelines and restrictions, many lack the channels necessary to effectively communicate that to prospects and customers.
Preparing for the Future
It's clear that the aviation industry needs to tailor more resources specifically to independent CFIs, who serve an important role in growing the pilot pipeline—particularly that of general aviation pilots. The National Association of Flight Instructors (NAFI) and the Society of Aviation and Flight Educators (SAFE) offer invaluable support to independent CFIs by advocating and providing continuing education for them. However, the broader aviation industry tends to overlook the needs and challenges specific to independent CFIs or incorrectly assumes they are indistinguishable from those of other flight training providers. The COVID-19 pandemic has accentuated the differences between independent CFIs and even the smallest of flight schools. Limited infrastructure is still infrastructure.
However, the failure of independent CFIs to modernize their marketing strategies goes beyond the resources available to them. Their perception of digital marketing strategies is a larger hurdle to attracting new customers—especially during a pandemic. The 2021 State of Flight Training Report shows that independent CFIs consistently undervalue digital marketing channels.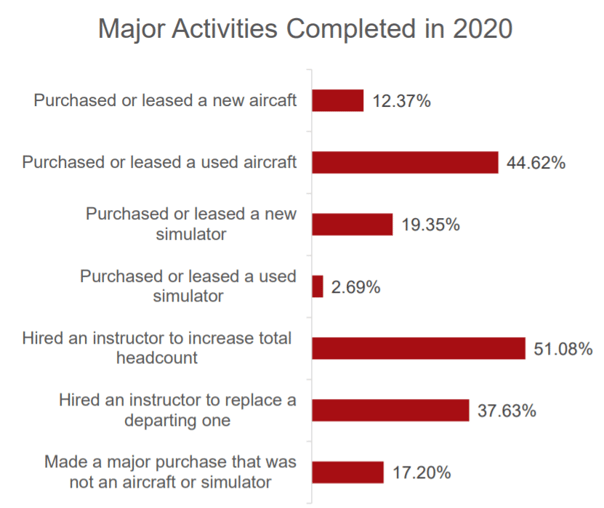 (Click image to enlarge)
Their belief that walk-in or word-of-mouth marketing is more important for their business than digital marketing demonstrates an antiquated view of customer acquisition. Walk-in and word-of-mouth marketing remains an important channel—especially in the flight training industry—but internet research will almost always predate walk-in visits and verify word-of-mouth information.
Building a Digital Presence
The good news is establishing and maintaining a basic digital presence has never been easier. While independent CFIs do not have the time to create and manage complex digital marketing campaigns, they can grow their businesses by creating and nurturing three primary digital assets:
A modern, consumer-facing website
There are a lot of services available to independent CFIs to help them get started. Web development services like Squarespace and Wix allow users to enjoy many of the benefits of a modern website without the hassle of creating one from scratch. Social media management platforms like Hootsuite and Buffer allow users to view all their social media feeds, profiles, and analytics from one dashboard and post to several platforms simultaneously. These services only scratch the surface of the possibilities, but they can help independent CFIs continue to attract and grow a loyal customer base over time.
Once a solid, digital foundation is laid, independent CFIs can subscribe to marketing newsletters and follow marketing blogs—such as those published by Hubspot and Contently—to find feasible and effective strategies to continue enhancing their digital presence. If they need help to produce content and manage social media pages, freelancing platforms like Upwork and Fiverr have a large network of marketing professionals with reasonable rates.
Every small step can make a big difference for independent CFIs, and—once their digital marketing engine is humming—search algorithms will help strengthen it over time. The key is to start taking steps now. For small business owners like independent CFIs, developing and nurturing a solid foundation for digital marketing is akin to training for proficiency as a general aviation pilot. It provides a means for growth and a skillset to fall back on when unforeseen variables disrupt the status quo.
Unexpected events will continue to happen in the flight training industry, and they tend to disproportionately impact independent CFIs. The recent ruling on Warbird Adventures, Inc., et. al. v. FAA may be another example of that. It's important for independent CFIs to stay on top of the business variables they can control in anticipation of the ones they can't. As an industry, it's our responsibility to help them do that.