Most wisdom bears repeating. There are not a lot of human axioms that have been made up recently; they have been with us forever. There is a way to live your life that's just smarter, and those things carry into being a pilot. They are not going to rock your world with novel ideas, but I hope they allow you to talk to other people as pilots, educators, and mentors in a way that reminds us all that we can go out into the world of aviation way better if we remember how we show up to that job.
My father, Jim Brown, was a constant example of the mentality that helps you continue to improve as a pilot. Born in 1933 during the Great Depression, he grew up living with three other generations of family in order to have a roof over his head. My grandfather, as my dad used to say, walked off a subsistence ranch in Utah in order to better himself and ended up working for DuPont Chemical Company as a plant manager. DuPont was famous for not cutting a single job during the Depression, so my father was raised by a company man who got him through the early stage of his life by avoiding poverty.
My grandfather had aspirations of raising his only child to attend an Ivy League school, which my father fulfilled when he enrolled at Princeton University. However, when he got there, he more or less said, 'This is a place of blue-blood knuckleheads, and I want nothing to do with this.' The humble ethos of my father was large and proud.
His high school girlfriend from ninth grade happened to be graduating junior college at the time. When he soon proposed to her, there were two benefits: He got his wife of 65 years, and he was thrown out of Princeton because undergraduates were not allowed to be married. So he transferred to MIT, graduating with a degree in chemical engineering, and went to DuPont Chemical to close the loop with my grandfather as a chemical engineer in Galveston, Texas.
But then he had a fateful trip back to his hometown. Over beers with his best friend from high school, he divulged that he was miserable as a chemical engineer. His friend suggested that he join the military. After a few more beers, they went down to the Navy recruiting office, and my dad presented himself as a future nuclear engineer to be a nuclear submariner. He figured his engineering degree lent itself to the emerging technology in nuclear energy. The recruiter looked at my father and said, "Son, you don't want to be a submariner. You want to be a fighter pilot."
With that, my dad went off to OCS in Pensacola, Florida, and Corpus Christi, Texas, soon to fly F3H Demons in the early stages of jet aviation in the Navy. The decision to enlist created a lifelong love of aviation for my father. The Navy transformed him. It transformed his confidence and how he saw the world, and, quite uniquely, it made him very humble.
In military aviation, you don't ever make a flight — you don't ever do anything — without a grade. You find out quickly that you're not as good as you want to be at the things you're tasked to do, and it changes how you think about performance. It changes the way you think about how you show up to the job. Four things that I gathered from my father, in particular, have gone directly into the aviation experience he sponsored for me, and which I am now aiming to sponsor for my son.
1. Be a lifelong learner.
My father was a lifelong learner of aviation. You might think that if you are an all-weather, night-fighter pilot in the Navy — which means you're trying to find a boat in the dark — that in the world of general aviation you're stepping down to a somewhat less significant and severe level of risk. But my father enrolled himself in FlightSafety to do simulation-based training to prepare himself for the safe and correct operation of an F33 Bonanza, and later in SIMCOM when he stepped up in aircraft and found himself in a turbine airplane. He went to recurrent training religiously for probably 30 years. He also sought out North American Trainer Association training junkets all over the United States to learn to be a formation pilot in warbirds, something he had not done since 1953 in the Navy. When he wasn't training in airplanes and simulators, he had a DUATS modem in his home office.
Every time I watched my father practice the art of aviation, I saw him learning. We worked together for many years at Hartzell, and the factory is only a couple of miles from an airport (Hartzell Field in Piqua, Ohio). He would go out and shoot 10 landings every lunch hour. Without fail, when the ceiling was above a thousand feet, you could hear the SNJ fire up. It was beyond loving the sound of that radial engine; he wholeheartedly believed in practice.
2. Be brutally honest with yourself.
Aviation is not a place where you should ever indulge in self-B.S. You're not better than you are, and you don't know more than you know. I learned this during quite an extraordinary flight with my father. We were cruising along in his 1967 Mooney M20E. The livery was orange and cream, and the inside was brown. Can you imagine that used to be cool? He bought that airplane used for about $17,000 on the day he was fired. Yes, his response to getting fired was to buy an airplane, which I think might be another lesson, but it's not on my list.
He had been inactive for a long time, and his plan was to plunge himself back into general aviation. This flight was early in the period of dusting off the cobwebs. As we were coming down final towards this little runway in rural Ohio, he called out that the crosswind could get ugly. I said, "I thought you flew all-weather fighters at night off the USS Bonnie Dick?" (something my mother used to point out with great pride). He replied, "Well, that boat was always pointed into the wind!"
He never took for granted that he had more skill than he had. I remember when I was six or seven years old, I used to flip through aviation books — some from his carrier cruises — and I asked him if he was a dogfighting fighter pilot that did loops, rolls, and the like. My father was larger than life to me, and I'd believe anything he told me. He said, "No. When I went in the Navy, we had to do all the basic aerobatic maneuvers, but I always got bad scores." He said he was pretty good at IFR but wasn't much for aircraft handling, so he had to work at it.
In IFR, there's a missed approach because you might not land. Well, there's a missed approach anywhere in a flight if you choose to have that mentality.
When he died, I found a box with some of his memorabilia in the corner of the closet. In that box, I discovered the flight-by-flight instructor critique of my father's performance in basic training. Page by page, it said that he was a model student who worked very hard and was well prepared but had a lot of trouble with aileron control coming over the top. In other words, he told me the truth. He looked his young son in the eyes and told him that his entry into the world of flight involved not being so very good at it and having to work harder and practice more. He was always honest with himself about flying, and he taught me to do the same.
In 2011, he flew to EAA AirVenture Oshkosh after having a quadruple bypass. He fought to get his certificate reactivated after the surgery, and it took him a few years. His plan was always to downshift to his F33 Bonanza when he got older because it was a simpler aircraft for him. He flew into AirVenture in that airplane with a safety pilot.
A few days later, we went out to the airport — Fond du Lac, if I remember correctly — to take off on an overcast day. In the world of IFR, it was easy IFR, but it was still IFR. I was looking forward to this day with my dad. He was going to go out in the Bonanza, and I was going to go out in another airplane headed to the same destination. However, after we got to the airport and I prepared to get into the airplane I was flying for the day, he walked away from his and got into mine. He said, "I'm not going. My days of flying IFR are over." That's the last time he ever flew.
To this day, I'm amazed by that. He could have done it; he had a safety pilot. Yet his level of personal honesty dictated that he had to have something in his gut that said he was mission ready. He didn't have it, and it was that simple. I will never forget it, and I hope to be worthy of that level of self-honesty in my own life.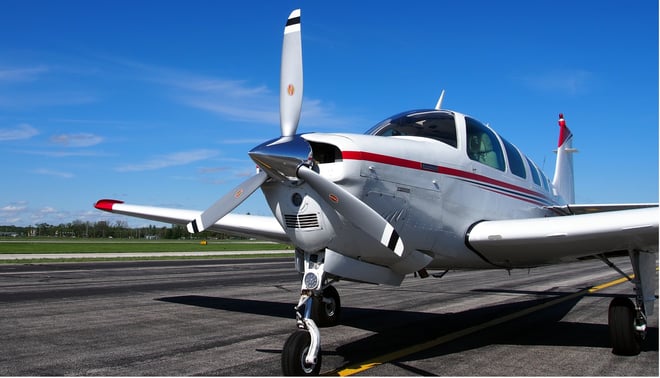 Related Content: My Passion for Proficiency, a guest editorial by Joe Brown
3. Be flexible.
I was always astounded at a guy who was a risk taker in life — a pretty big risk taker — being so humble about flying and flexible in mission planning. When he planned a trip, he used the word 'maybe' a lot. He always had a goal and a place he wanted to go, but he acknowledged that how and when he arrived might be different than what he had planned. He tried to transmit that to me in my early years flying.
Once, I was flying from Charlottesville, Virginia, to Piqua, Ohio, in a Beech Sundowner. There was a big headwind with descending ceilings and the Shenandoah Mountains nearby. Trucks on the highway were going faster than me. It was terrible flight planning on my part. With my wife and my dad's German Shepherd on board, I questioned if I knew what I was doing. So I peeled off and landed in Parkersburg, West Virginia.
I called my flight instructor, who had recently proudly sent me into the world, and asked him to double-check what he thought I was facing on the rest of the ride home. With his help, we managed to make our way back. When I talked to my dad that night, I received some of the highest praise he ever gave me for recognizing that I was allowed to land, take a deep breath, and regroup.
There have been several other occasions in my flying since then when I've had his voice in my ear telling me to be flexible. He was not lazy about completing tasks or missions, but he was very keen on the idea that every flight is a work in progress. In IFR, there's a missed approach because you might not land. Well, there's a missed approach anywhere in a flight if you choose to have that mentality.
4. Have mentors and advisers.
I think all of us believe that if you're going to fly an airplane, you should have some base level of confidence in your own skills to deal with what's coming. However, it's interesting that you have to package that with the notion that there's somebody out there from whom you can learn. Not only is that wise, but it's joyful.
My father had several mentors who each played a distinct role in his flying, and he treasured those relationships. A guy he flew with in the Navy, Gail Bailey, was my father's VFR sensei. Gail had flown in the worst and most dangerous conditions that you could ever face while he was in the service. As a GA pilot, he never flew an IFR flight. For whatever reason, he loved VFR, and knew how to do it really well. Long cross countries in VFR are challenging, and Gail helped my father succeed at them, talking with him routinely as he was planning trips.
Larry Zetterlind, the former chief pilot of Hartzell Propeller, was my dad's IFR mentor. My dad talked to Larry consistently about how to fly better in IFR conditions and which new technologies would help him. He was an early adopter of WAAS. I remember him shooting a WAAS approach into Piqua, and it was like he discovered the atom. He was blown away by the technology.
He also went to school on aerobatic pilots like Sean Tucker and Mike Goulian, who are so committed to the craft in all phases. He keenly observed how they practiced and prepared and the mental attitude they showcased in their training and performances. Until he took his last flight at age 77, he surrounded himself with people who saw aviation in ways he could learn from, and that reinforced his sense of discipline.
Over the long haul, this is a business where lifelong learning is more important than how well you manage pitch and power. My dad never went on a skills-based flight with me. He never talked about the mechanics of flying. He talked about learning. He asked what I was practicing and reading. As you continue your aviation journey, you will be around a lot of learners and pilots. If you impart one thought to them, it should be the importance of lifelong learning of the craft.
You don't have to know everything, and you don't have to be the best pilot in the room. You probably never will be, and that's fine. Just love it, and be clear about what you are and who you are when you show up for that job. You'll be safer and better for it.