The ways in which high-speed internet and smartphones have altered the business landscape have become increasingly apparent in recent years. For many consumers, services such as Amazon, Uber, Netflix, Blue Apron, Postmates, and Dollar Shave Club, among others, are daily staples. All of these companies have service features that are unique and innovative, but their success has skyrocketed in large part due to a simple, achievable shift in paradigm: they make it way easier to buy and receive their services. As immediacy and ease have become critical variables that influence consumer buying habits, the competitive advantage for these companies arguably derives more from a difference in consumer experience than a difference in product or service. In fact, for these companies, the consumer experience is almost indistinguishable from the service offering. Ask the former Blockbuster brass what Netflix sells, because they won't say movies.
Flight training, much like media streaming or food delivery, is an undifferentiated service. Your customers want a pilot's license or rating like a Postmates customer wants a burger—your customers just prefer a $100 burger—and they likely have multiple options for reaching that goal. Inside your school, they'll form a concrete opinion on how your aircraft, instructors, facilities, and technology compare to that of your competitors. The challenge is swaying their opinion in your favor before they ever set foot in your facility. How do you win over potential customers at every touchpoint with your brand? To attract and retain customers, the new wave of successful startups has utilized a few, basic consumer experience principles.
Related Content: Establishing Your Flight School as a Thought Leader
Self-service is expected
Have you gasped at a vending machine lately? Your customers haven't either. And constant, simple access to your business is a similar expectation. You can't take students in the air 24/7, but consumers should be able to accomplish most other tasks around the clock. Can they schedule a discovery flight? Can they read about the instructors and aircraft available for that flight? How about a preflight briefing (start 'em early) and information about what to expect? If they need additional information, do you have a chatbot prepared to answer frequently asked questions? Finally, is all this information presented successively, or do they need to dig for it?
Make it easy to patronize your business. When you're at work, so are most of your potential customers. Their information gathering starts when they get home. Leverage your web presence to get them as close to the airplane as you can while you're away from the office, and then close them when you're back in it.
Employees should enhance the consumer experience
If your web presence gets a potential customer 75% in your door, then your employees should be able to nail that final 25% like a landing on a calm, sunny day. Of course, regardless of conditions, landings are one of the more challenging stages of flight. Similarly, closing a deal is the hardest part of the sales process. The higher that your prospects are on your business, the higher their expectations are too. As flying an airplane starts to feel like more of a reality, excitement soars. That's great, but it's also a challenge. Your staff's first touchpoint with a potential customer isn't that customer's first touchpoint with your brand. Accordingly, employees have to find a way—immediately and every time—to meet prospects where they are and maintain forward momentum. To do so, they need to be highly skilled and, more importantly, broadly informed. Each time an employee hands off a conversation to another employee, momentum dies. Time elapses, excitement stalls, and doubt sets in: "why aren't the instructors able to explain pricing? Do they not know or are they not being transparent? Am I going to get ripped off?"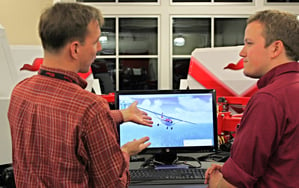 Determine which information every staff member needs to know and impart it during their initial training. You may be hiring an individual for a specific skill set, but conversations with potential customers are rarely specific. Curriculum questions evolve into sales questions in the blink of an eye. That should be great news, but only if you're able to keep the ball in play.
Related Content: 4 Ways to Help Your Flight Instructors Sign Up New Customers
Successful customer relationships are scalable
On a good date, the words "this isn't going anywhere" typically aren't muttered. Successful relationships are characterized by an openness to growth and longevity. In business, Uber and Lyft embody and communicate this well. Beyond their current ridesharing service, both companies now market bike and/or scooter rentals and are developing services around innovations in self-driving cars. The breadth of services in their brand stories allows them to stay relevant in the lives of more consumers. Uber and Lyft want to be known as more than "ridesharing" companies; they want to rebrand as "urban mobility" enablers. Now, for each company, it's a race to communicate the lifespan of its services and become the vendor of choice for every one of them. Brand loyalty leads to easy and immediate decisions for customers. Ideally, it leads to easy and immediate decisions for their friends and family too.
Ab initio training might be your bread and butter for earnings, but don't let it minimize your brand. Do you offer instrument training? Open simulator time? Do you host a flying club that meets regularly? On paper, your competitors likely offer the same opportunities, but that doesn't mean they're connecting the dots for their customers. Ingrain your suite of offerings into your dialogue with every customer. It doesn't have to be a sales pitch; in fact, it shouldn't be one. However, communicating a never-ending brand story gives you a competitive advantage.
Related Content: Think Outside the Box: 5 Specialized Courses to Expand Your Flight Training Business
Your customers might be satisfied with a private pilot's license, but you're still relevant in their life for as long as you communicate continued possibilities in your relationship. The fact that you have more to offer might contribute to a consumer's decision to train with you for a PPL in the first place. Even if a customer doesn't return for years after that, or ever, the mere existence of opportunity contributes to a positive brand experience—especially if your competitors aren't communicating the lifespan of their services. In the same vein, a person may only ever purchase one airplane, but the value in being their aircraft provider of choice extends beyond the purchase. Give your customers a reason to be active and invested brand advocates. If your customers feel like there is a fixed ceiling on your relationship, then you need to rethink your brand's story. If you don't, your competitors will.